Due to the strong necessity of fulfilling our International Student needs and desires we are constant trying to establish new partnerships. These partnerships aim to complete our offer on the following subjects:
Accommodation
Sports
Food & Drink
Culture & Leisure
Bars & Nightlife
Health & Beauty
Travel & Transportation
Services
Our marketing officer and our treasurer are dedicated to keeping good relationship with our partners
Our main offer is the access to a huge international market of mobility students whose unique goal is not only to study but to go out and experience life. Besides the Website, ESN Leeds has a unique offer of social networks:
Because we deal with an international market and we are the Leeds organisation to do so, every ESNcard is entitled to a subscription on our international platform where they get access to thousands of discounts throughout Europe.
We are constituted by over 500 sections in 40 countries around Europe with 55,000 members working with almost 200,000 students. For more information about our organization you may find at the bottom of the page the Introduction Letter in which you can retrieve a general idea not only about ourorganisationn but also our projects.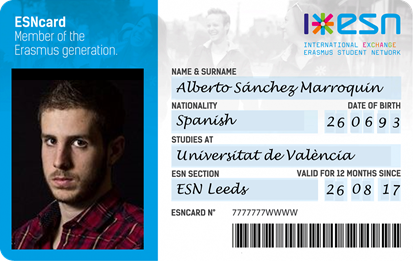 Partners can cooperate on the following terms:
Financial assistance (via comission for instance);
Discount associated with the ESNcard;
Support for events and other projects of both local, national and international projection.
Feel free to contact our team with any issue you may have and we will be delighted to hear from you. You can contact us HERE or via luu.intsoc@leeds.ac.uk.
Don't just join the team! Join the family!